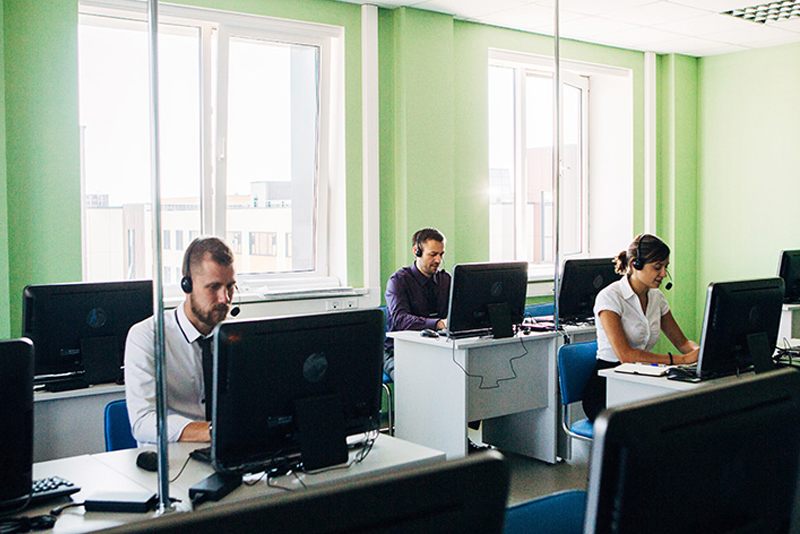 Retailers, credit card companies, financial institutions, phone companies and other types of businesses have call centers that customers contact for service-related inquiries and transactions. This is often the first line of response that a company offers to their customers. However, many of these businesses attempt to save money by establishing call centers overseas due to cheaper labor and expenses. Implementing this strategy can quickly backfire, especially in service-oriented industries.
Having a call center in the United States is important to today's consumers for many reasons. Some of the drawbacks of relying exclusively on offshore call centers include:
Lack of Language Comprehension
Industry experts report that 30% of call center jobs in high-tech industries were outsourced to other countries. However, the market has seen a recent trend involving jobs coming back to the United States after customers had negative customer service experiences with non-native English speakers.
Customer service representatives must be able to communicate well in the customer's language to effectively respond to the customer's problem. Customers may feel frustrated when they have to continuously repeat their problem to a representative who does not understand them.
Many customers simply hang up when they realize the representative is not understanding them, or they may request to speak to a native English speaker. Companies have responded to this problem by changing call centers to countries where English is a first language.
Some offshore call centers may simply escalate the call to someone in a U.S. call center rather than resolving the problem on the initial call. However, this strategy puts businesses at risk of losing customers since 67% of customers will stay with a company if their problem is resolved within the first engagement.
In contrast, customers who are dissatisfied may leave the call with their problem unresolved. In fact, 66% of consumers switch brands if they are dissatisfied with their current provider. They may decide that a competitor with U.S.-based call centers can better serve their needs.
Negative Customer Service Experience
Many businesses see the connection between excellent customer service and profitability. In fact, many consumers say they are willing to pay more for goods or services when they experience good customer service.
However, many consumers do not experience a positive customer service model when serviced by an offshore call center. Many of these centers are operated without oversight from the parent company due to the geographic distance between them.
Cultural Divide
When customer service representatives work in offshore centers, they may not understand cultural customs of Americans or be able to deliver a customer service model that is geared toward meeting American expectations. U.S. call centers can be staffed by native English speakers as well as bilingual staff who can communicate with customers in other languages.
Time
When customer service representatives speak the native language, they can more quickly address customers' concerns and resolve the problems. This process also helps avoid the need to transfer calls between centers and the delays involved in escalating calls. Surveys show that 71% of consumers believe that saving their time is the most important thing a company can do to provide good customer service.
Negative Reviews
Today, negative reviews can have a critical effect on businesses. With social media – and all the reviews that show up when using a search engine and the possibility of exchanges going viral – one negative review can affect a business now like never before. For instance, over one million people view tweets about customer service with 80% of these regarding negative experiences.
Further, even if people are happy with their service, they are less likely to leave a positive review, which can make it difficult to overcome a negative review. It takes 12 positive reviews to overshadow one negative, unresolved issue. Additionally, negative reviews will receive twice as much attention as positive reviews.
Lost Customers
If an offshore call center does not provide positive customer experiences, the company may lose business. About 78% of consumers have not carried out a transaction or made a purchase because of a poor customer service experience.
According to the White House Office of Consumer Affairs, it is typically six to seven times more expensive to acquire a new customer than it is to retain a current one. Major businesses pay anywhere from $7 to $315 in marketing and advertising to acquire one new customer.
Providing positive customer experiences through fluent English speakers and U.S.-based call centers can help retain customers and avoid these losses. When customers are happy, they will continue doing business with a company. However, if they are dissatisfied, there is likely a willing competitor who will vie for their business.