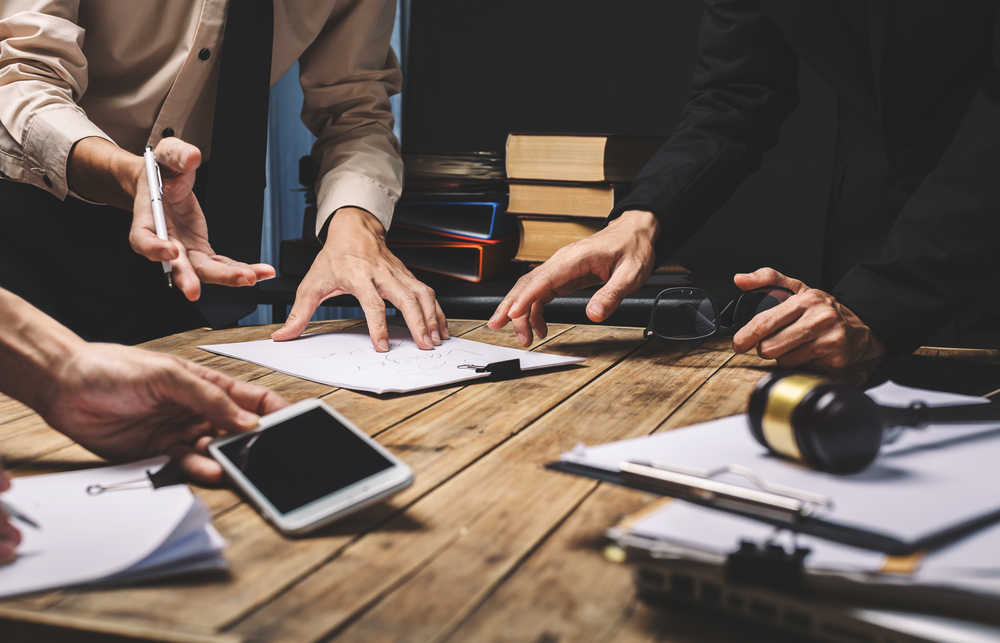 2017 was marked by a record pace in securities class actions filings, as reported in an annual study published by NERA Economic Consulting in January 2018. The report offers an in-depth look at the latest developments in securities class actions.
Here are a few important trends that anyone who deals with legal matters in public companies needs to be aware of:
Merger-Objections Filings Dominated Securities Class Actions Suits
The continued near-record overall growth rate in securities class actions was driven by a more than doubling of merger-objection filings.
In fact, the 197 merger-objection cases constituted about 46% of all filings.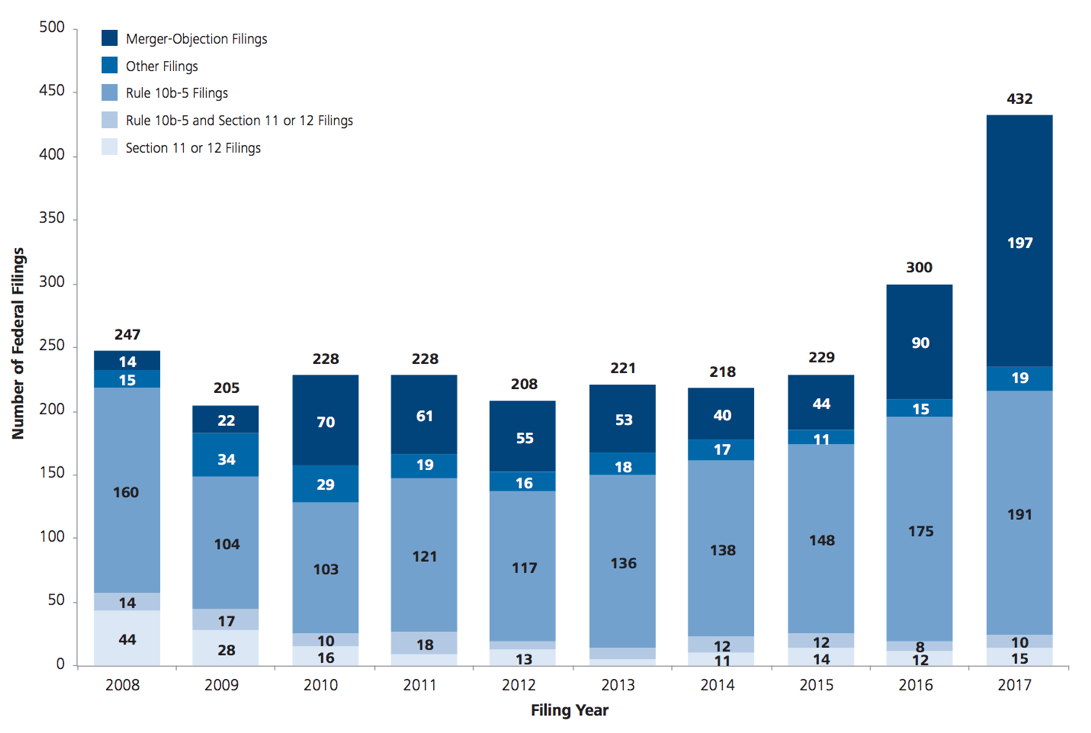 There was also an increase in allegations related to regulatory violations and misleading performance projections by management, representing a shift from the traditional accounting allegations to non-accounting cases.
Increase in Filing Frequency With Decline in Average Settlement
2017 saw an increase in the number of securities class action lawsuits filed, even though the number of publicly listed companies has declined over the past two decades (from 8783 public companies in 1996 to 5204 by the middle of June 2016.)
Despite the high filing rate, 2017 saw a dramatic decline of roughly two-thirds in settlement value compared to 2016. In fact, the average settlement values declined from $74 million in 2016 to $25 million in 2017.
Decrease in Time to File
The median time to file dropped to a record low of 10 days, meaning that it took 10 days or less to file a complaint in 50% of cases.
This finding signifies a lower incidence of cases with long periods between the date of discovery of alleged fraud and the date when a related claim is filed.
Increase in Total Case Size
The average case size, as measured using the "NERA-Defined Investor Losses" metrics, increased within the year.
In 2017, aggregate NERA-defined Investor Losses was $334 billion, which is 50% more than the five-year average of $222 billion. The increase was mainly due to more regulatory filings.

Types of Allegations
2017 saw the filing of large cases alleging regulatory violations that spanned multiple sectors.
The largest regulatory cases involved several industries with allegations related to safety recalls, emissions defeat devices, customer account creation, and antitrust violations.
Meanwhile, the percentage of Rule 10b-5 class actions that alleged insider sales continued to decrease.
Fewer Settlements And More Dismissals
Even though 2017 saw an increase in filing, there had been fewer settlements accompanied by more dismissals and withdrawals.
In fact, most cases (72%) were resolved before the lawsuits progressed to the class certification stage and only 15% of cases reached a class certification decision.
2017 saw the highest number of dismissals since the early 2000s (a 40% increase,) which is partly due to an unprecedented rate of voluntary dismissals.
This may indicate a decline in the quality of securities class action cases being filed, based on an analysis by Michael Klausner, Professor of Law at Stanford Law School, and Jason Hegland, Executive Director of Stanford Securities Litigation Analytics.
Cases Against the Health Care, Technology, and Financial Services Sectors
Amongst claims filed against the health technology and services sector, the majority (63%) were made against firms in the pharmaceutical preparations industry.
2017 also saw an increase in class actions within the commercial and industrial services sector, possibly due to an increase in filings that alleged regulatory violations and misleading future performance.
Other sectors that are targeted include the motor vehicles and equipment industry, telephone communication industry, drug industry, and deep sea foreign transport of freight industry.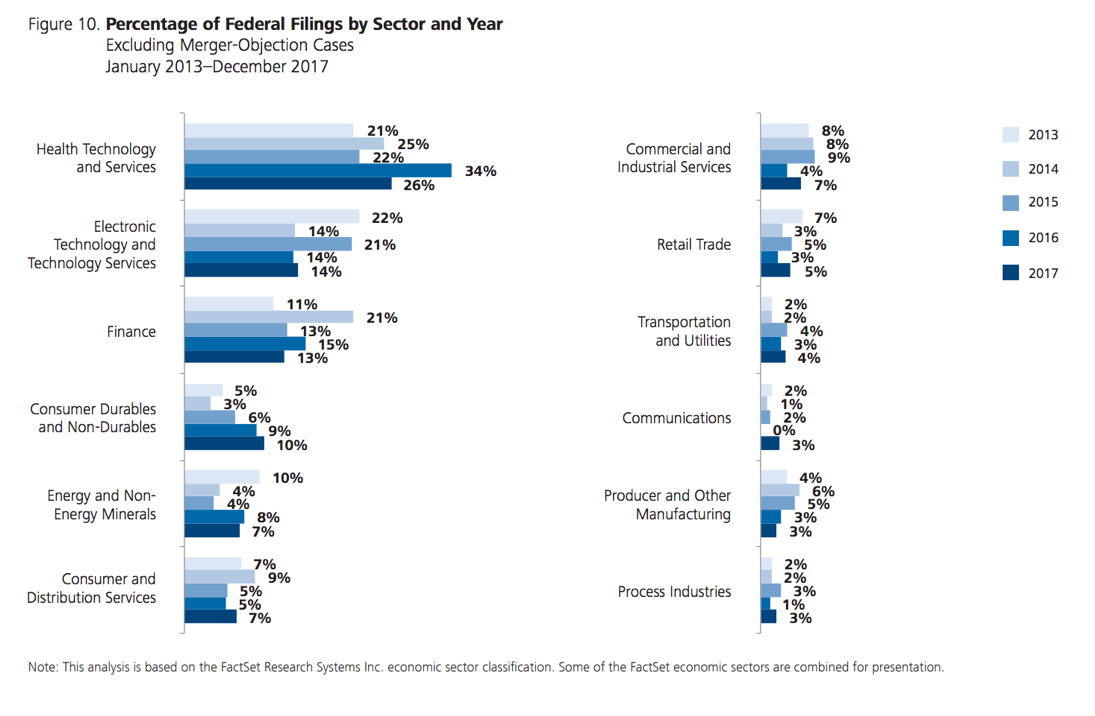 Filing Increased in Most Federal Circuits
There was an increase in filings in every federal circuit except the Seventh Circuit, primarily due to the jump in federal merger-objection cases.
Non-merger-objection filings in the Ninth Circuit were dominated by claims against firms in the electronic technology and technology services sector while the Third Circuit experienced a 60% increase in non-merger-objection cases.
This is partly due to the fact that the Third Circuit has a higher proportion of firms in the pharmaceutical preparations industry, which dominates filings in the health technology and services sector.
Increase in Filing Against Foreign Companies
24% of securities class actions filed were against foreign issuers (mostly European and Chinese companies,) representing a sizable increase compared to the past decades.
Filing against companies in the health technology and services sector has increased while filing against organizations in the electronic technology and technology services sector has been falling persistently.
Dig Deeper With the Numbers
NERA's 48-page report contains in-depth data and analytics for those who want more details on how securities class actions are trending. You can download the report here.