For the third consecutive year, Certified RelativityOne Services Provider JND eDiscovery debuted its latest custom software application at Relativity Fest. This year, the annual global legal technology conference presented by software provider Relativity was offered online and drew more than 6,000 registrants from 40+ countries, record-setting attendance.
JND debuted its first custom eDiscovery solution at Relativity Fest 2018. The application, JND LayerCake™, is a patent-pending analytics software used by case teams to rapidly prioritize documents prior to review and is exclusively available in JND's RelativityOne environment. Last year, at Relativity Fest 2019, JND introduced the first and only inline coding interface developed for the Relativity platform, JND MachOne™, which was one of three finalists for the Relativity Fest 2019 Best Innovation: Solution Provider Award.
OneSearch: A Unified Search Engine for Relativity
This year at Relativity Fest, JND presented JND OneSearch™, a patent-pending Relativity search application that fires five search providers at once, automating all Relativity platform search functionality in a single click: Fuzzy Search, Exact Search, Stemming Search, Concept Search and Cognitive Search. OneSearch returns an aggregated set of search results complete with interactive data visualizations that allow case teams to develop deeper insights by exploring statistical relationships across search providers. Search results are summarized in a prioritized document list that can be filtered by search provider, file type, Control Number and other criteria, allowing users to locate responsive documents with greater speed, accuracy and efficiency.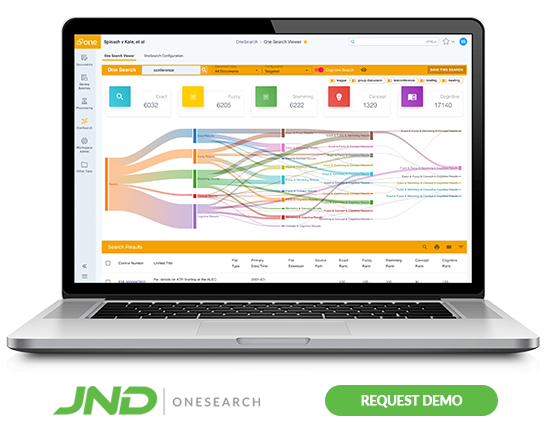 From Debut to Demo
During Relativity Fest 2020, many Relativity users and Partners contacted JND to express interest in the solution and inquire about scheduling a software demo to see OneSearch in action. Senior Vice President of JND eDiscovery, Scott Lombard, fielded inquiries submitted to JND during the three-day conference. Reflecting on the conference and current state of the industry, Lombard remarked, "I was impressed with the virtual format of Fest this year. To say that the pandemic has thrown the eDiscovery, litigation support and legal tech community a curveball would be a gross understatement. Relativity provided a virtual space for JND to safely connect with our partners, peers and clients, and to showcase our newest proprietary software, OneSearch."
Lombard continued, "And while COVID-19 has certainly interrupted what we formerly referred to as business as usual, software providers like Relativity and forward-thinking service providers like JND who leverage cloud technology to offer iron-clad business continuity and services that can be performed remotely have demonstrated a real staying power."
Inspired by and Developed for JND eDiscovery Clients
Year over year, with every proprietary, patent-pending software solution added, JND's unique RelativityOne environment is further differentiated from those of other Relativity vendors. Like LayerCake and MachOne, OneSearch began as a custom solution to a specific JND eDiscovery client request. All three custom software solutions were expressly developed to improve methods and outcomes in the Relativity platform for JND clients.
To learn more about OneSearch and JND's eDiscovery software offering, visit our eDiscovery page or check out JND's Relativity Partner Page. To partner with JND on your next eDiscovery matter or to request a proposal for managed eDiscovery services, you may call or text eDISCOVERY (334-726-8379) or send an email to ediscovery@jndla.com.