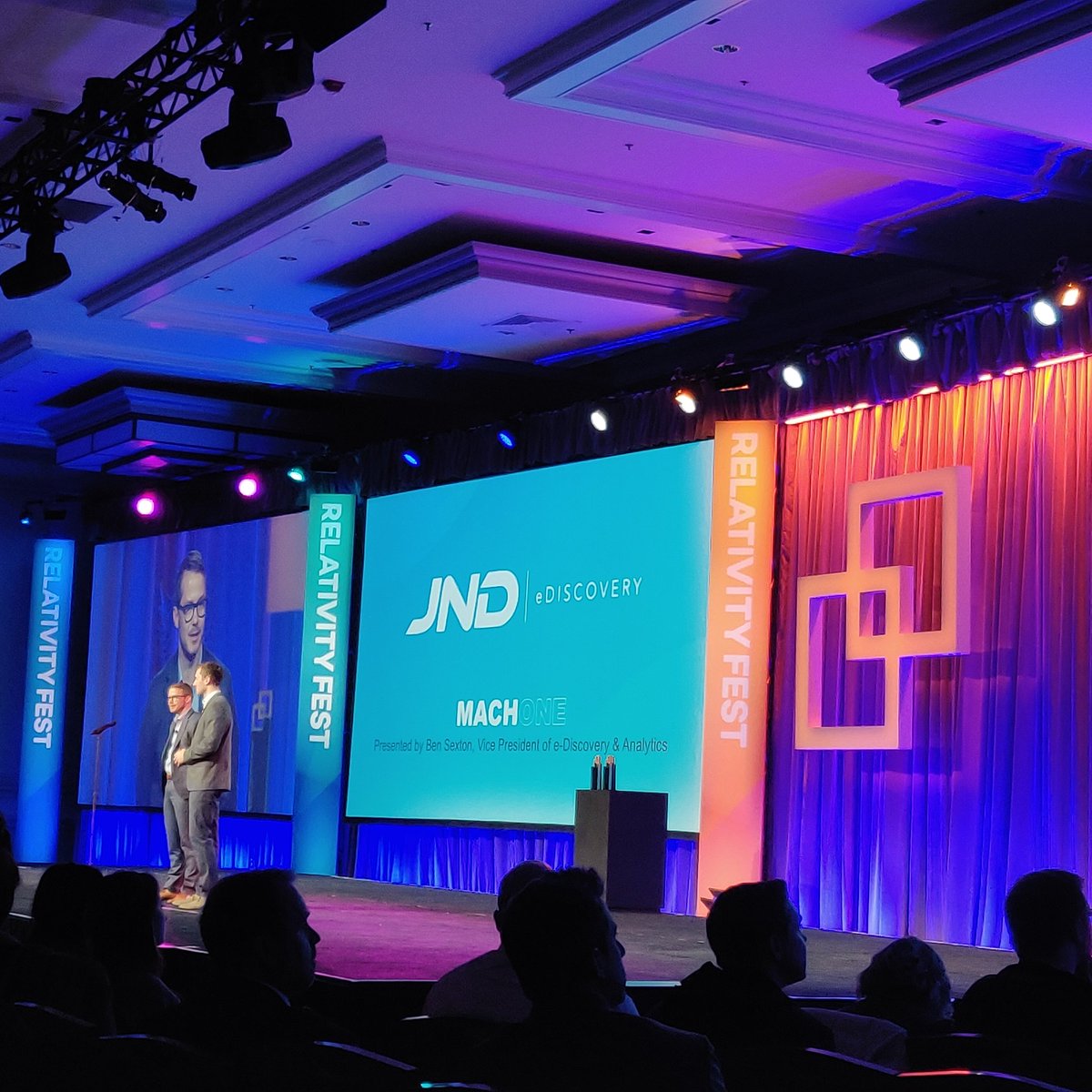 JND eDiscovery made a huge splash at this year's Relativity Fest, which took place October 20 – 23 in Chicago, IL. For those new to eDiscovery, Relativity Fest is an annual global legal tech conference attended by thousands of Relativity users, analysts, attorneys, litigation support professionals and IT experts, designed to educate and connect the vast eDiscovery community.
JND has presented and participated in Relativity Fest for three years running, but RF19 was our most impactful presence to date. We represented with eleven personnel in attendance and our Vice President of eDiscovery and Analytics, Ben Sexton, interviewed with In-House Community, Lawyers Weekly and Chris Dale of the eDisclosure Information Project.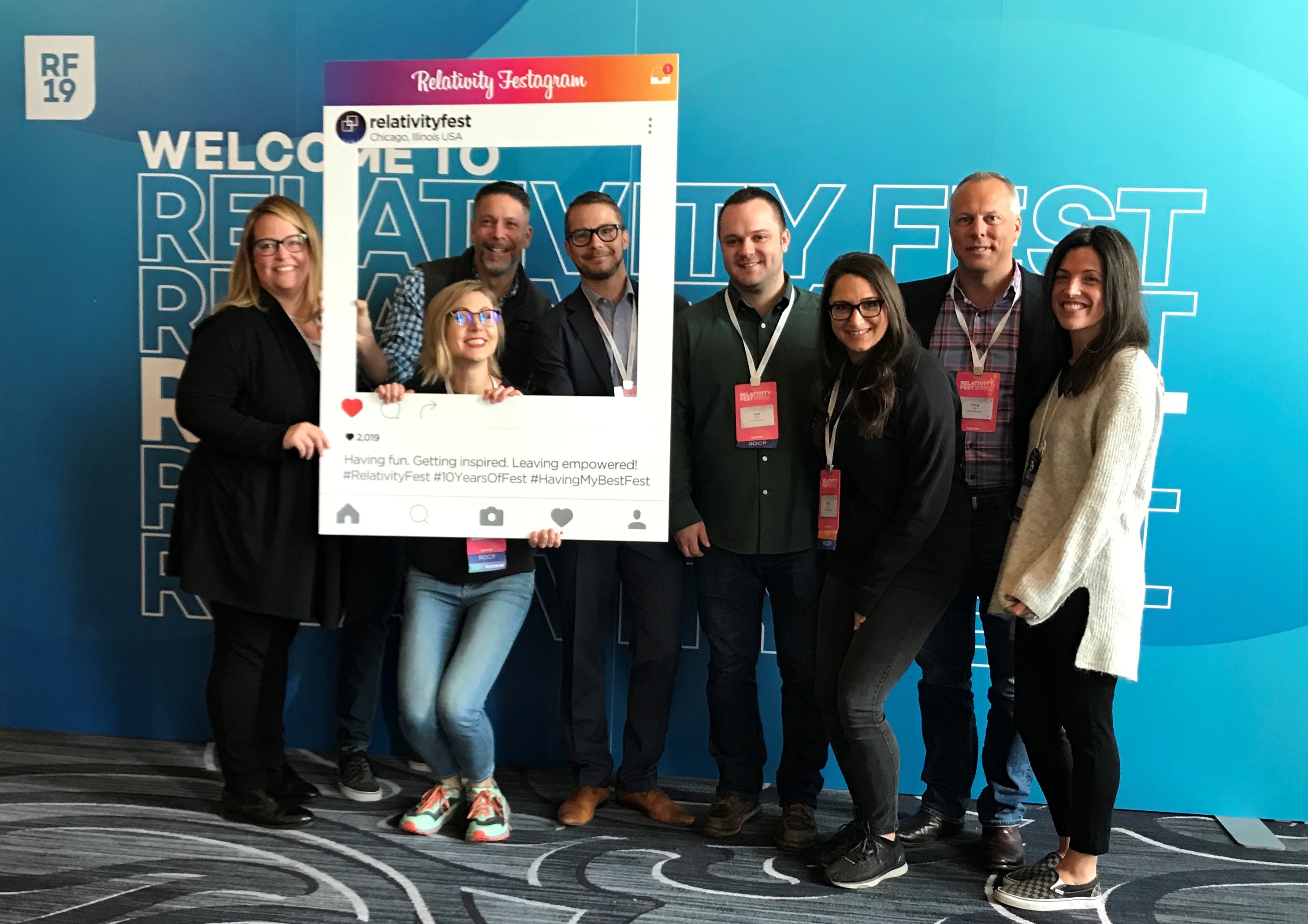 We presented our newly released document review application, MachOne™ in a Tech Talk and led a panel discussion for inside counsel and service providers alongside one of JND's top corporate clients. On the final day of the conference, JND took the stage at the Relativity Innovation Awards ceremony twice as one of three finalists in both people and technology awards categories.
Lightning Round Tech Talk
JND kicked off RF19 by participating in a Lightning Round Tech Talk alongside solutions architects, Erica Albertson of Simmons & Simmons, and Lelio Vrancovich of Bowman and Brooke. Developer of LayerCake™ and MachOne™, Ben Sexton, introduced and answered questions about JND's latest Relativity-integrated application in advance of the Relativity Innovation Awards ceremony.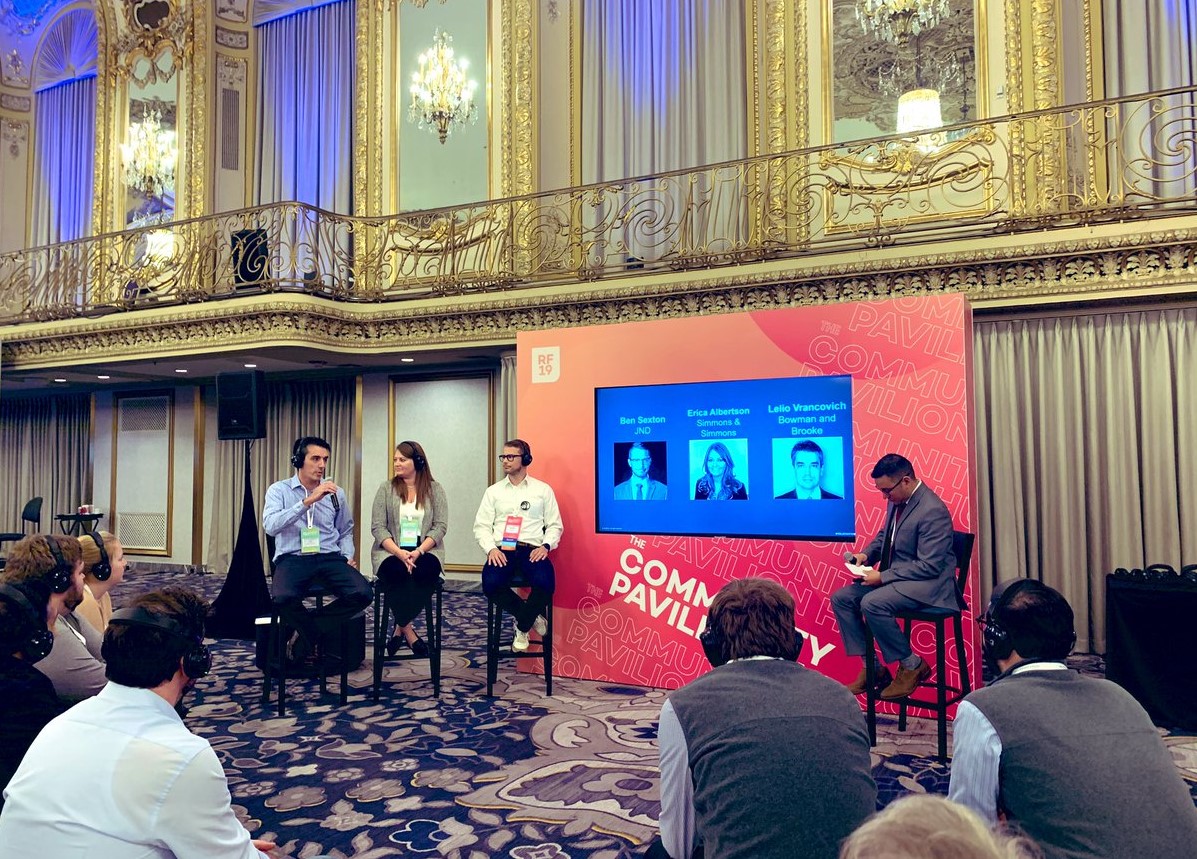 Asked about MachOne, Ben commented, "This is something that both our clients and power users in the greater Relativity community have been asking for. It makes reviewing documents in Relativity faster and easier for attorneys, allows firms to conduct document review more efficiently and saves corporations money by decreasing the number of billable hours dedicated to document review."
Breakout Session: A New Era for Corporate e-Discovery
Together with Niki Finck, Under Armour's Senior Lead Litigation Specialist, Ben gave an 60-minute presentation entitled A New Era for Corporate e-Discovery: How Under Armour Future-Proofed Their e-Discovery Practice with RelativityOne. In the breakout session, Ben and Niki talked about the benefits of establishing a modernized eDiscovery strategy to effectively manage big data for global corporations.
Ben and Niki began by identifying the challenges presented by Under Armour's legacy e-discovery practice, then highlighted the ways in which JND and RelativityOne solved the global corporation's problems. Attendees of the session left with these main takeaways:
Platform consolidation is key to eliminating redundant data hosting and multiple markups
Deploying a single-vendor solution allows in-house counsel to focus their efforts on important legal issues instead of vendor management
As an end-to-end eDiscovery platform and central repository with warm and near-line storage options, RelativityOne decreases risk and gives case teams better control over workflows
Innovation Award Finalist: Solution Provider & Litigation Support All-Star
The Relativity Innovation Awards at Relativity Fest is an annual competition celebrating organizations that use Relativity in creative ways, solving difficult or unique challenges within and outside of eDiscovery. Industry experts including Robert Ambrogi, Peg Gianuca and Mary Pat Poteet evaluated more than 200 awards nominees and Relativity-integrated solutions and selected JND as a finalist in two categories. JND's new document review application, MachOne, was selected as one of the Top 3 for Best Innovation: Solution Provider, and Ben Sexton was one of three finalists for the Lit Support All-Star Award.
The panel of judges selected professionals and solutions that use various application integration points to display an extensive use of Relativity's APIs to streamline processes, solve complex workflow needs, and create an altogether new solution that positively impacts business strategy.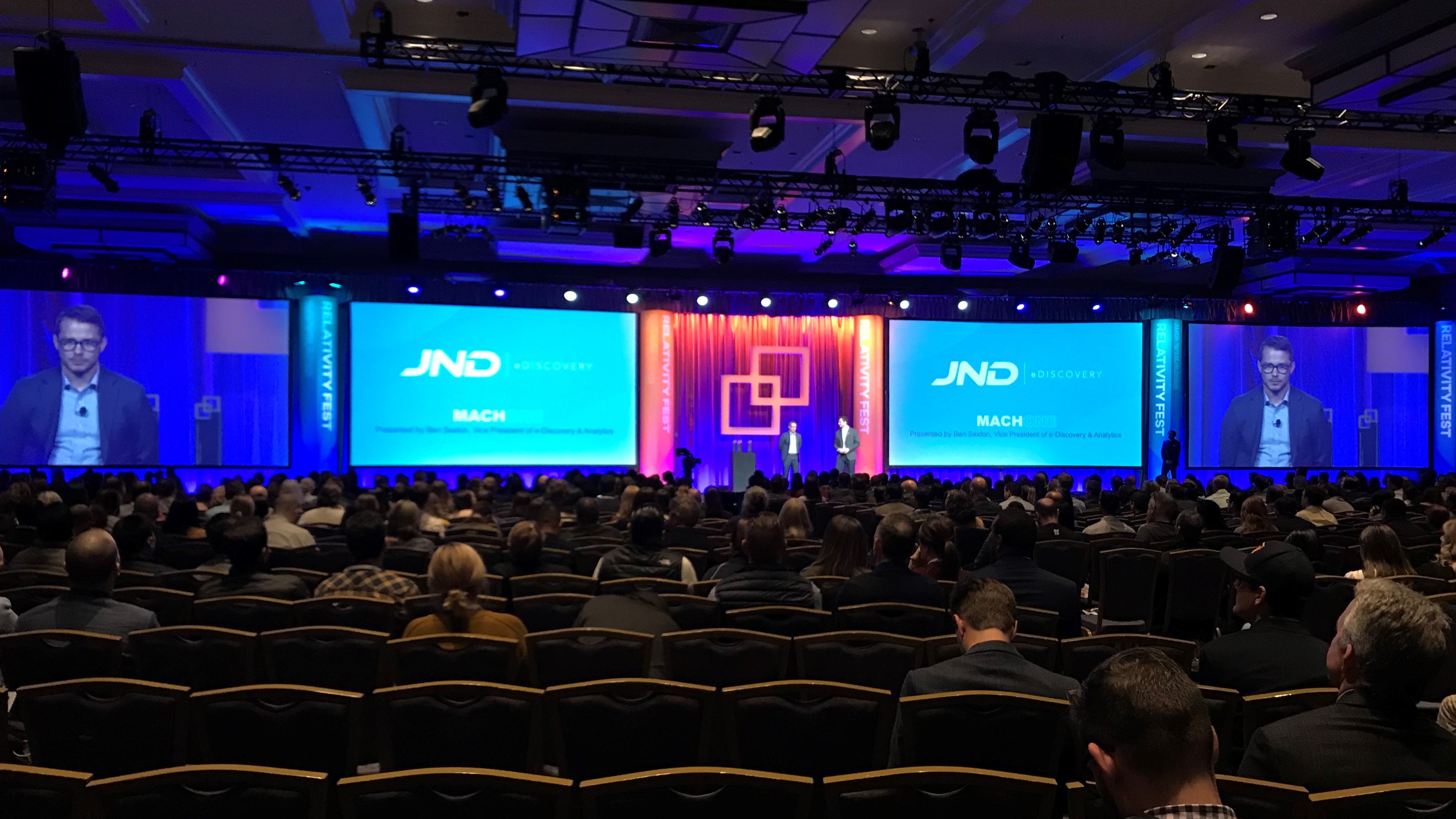 The enthusiasm for JND and MachOne from the Relativity community at the conference was palpable. JND was the only service provider selected as a finalist in multiple Innovation Award categories, and while we did not place first in either category this year, we are proud of the recognition that we received and look forward to continuing to innovate on the Relativity platform in unique and impactful ways.
Final Thoughts
When asked for a statement, Vice President of eDiscovery and Analytics, Ben Sexton responded, "JND is committed to delivering the industry's most innovative solutions for our clients, whether that's by leveraging cloud computing or developing new applications like MachOne. Our experience at Relativity Fest this year confirmed that the market recognizes JND as a leader in both platform innovation and cloud eDiscovery in general."