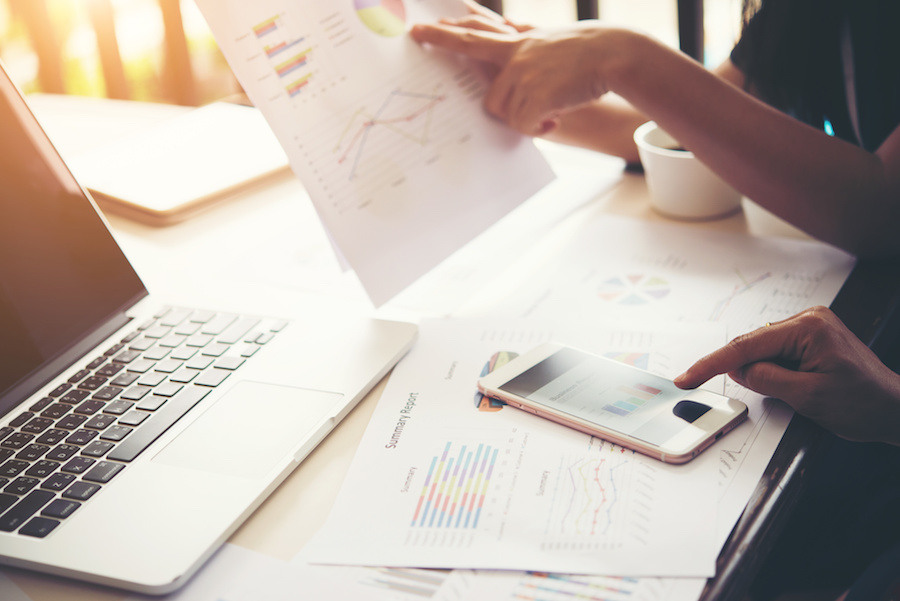 Clients and competitors often conduct research that is relevant to your business. You can use this research to boost your own return on investment (ROI) if the given information is leveraged properly.
Through tailored strategies, you can highlight engagement factors that are relevant to your business without having to invest the additional resources to extract similar data.
Understand How ROI Is Calculated
Before you can determine the impact client and competitor-based research has on your ROI, you must understand how this metric is calculated.
ROI, also known as return on investment, is derived from the amount spent on marketing campaigns and how much revenue these campaigns brought in. Other factors may be considered also -- for example, brand awareness, customer retention, website traffic, lead generation, and repeat business.
Oftentimes it is difficult to calculate an exact ROI figure because the response after a marketing campaign may not be realized immediately, or various increases in revenue may not be properly attributed to these campaigns. ROI is usually expressed as a ratio of revenue to cost. A 5:1 ROI is usually considered good for most companies, while a 2:1 ratio is not.
Find Key Measures to Analyze
There are various metrics that you can measure regarding your clients and competitors to leverage your own ROI. Some options include:
Page Rank
A website's reliability and popularity can give a higher ranking in search engines. To use this metric, you can compare the popularity of the site before and after significant changes were made. A website may receive higher rankings by having high-quality links added to the page. These links can be analyzed to determine which links are driving a greater amount of traffic.
Website Analytics
Website analytics indicate whether a website has realized more traffic since a new digital campaign was released. Analytics can show how long visitors spent on a particular page and how they engaged with content.
Social Media Scores
Social media platforms provide analytics to demonstrate how users are engaging with the content. If the social media page shows a greater number of clicks, likes, comments or shares, there is more attention being provided to the business.
Identify and Analyze Visibility
An important aspect of leveraging customer research is to identify and analyze the digital visibility of the competitor in comparison to your own business.
This process involves investigating and evaluating the effectiveness of various campaigns, promotions, digital public relation content, online reputation, and other efforts. This information can be interpreted by determining how much buzz the competitor has compared to your own digital footprint.
The number of posts related to campaigns can easily be tracked. Social media campaigns are often targeted based on particular demographics, including certain age groups and location.
You can also track how many times a competitor's product lines, brand image, or service offerings are mentioned and in what light. This research indicates the weaker areas of your competitors, giving you the opportunity to capitalize. You can then develop your own marketing campaigns to direct attention to your company in the areas where your competitors lack.
By delivering targeted models to potential clients, you can highlight your business offerings and recover ROI.
Increase Engagement
Once you have determined the key metrics to measure the overall success of your competitors, you can identify investments that may be possible on various platforms and can profile larger audiences. To begin strategizing ways to increase engagement with your own client base, take the following steps:
Categorize opportunities for potential optimization across multiple platforms.
Identify certain campaigns that have been successful for competitors or for your own business.
Segment interactions based on the channel and time distribution so you can easily parse out the reach and influence of each individual campaign or specific marketing actions.
Analyze the content that seems to have created the highest degree of engagement with your customer base.
Finally, identify key contributors across social media channels to isolate interests, location, and purchasing behavior.
Target the Right Leads
Not all leads are equal in nature. Some offer a higher value or higher potential than others. Once you have identified potential leads, categorize them into different groups based on the strength their connection would bring to your business.
You can use your own analytics to determine this potential, or you can use your competitor research to identify the importance of this particular client for your business. You can increase your ROI by classifying potential leads in this way and targeting only those that represent the most potential to your business.
By utilizing client and competitor research, you can discover the possible gaps in service coverage and identify methods to effectively market your business to potential clients.
Successful businesses leverage this information consistently to maximize their bottom line.